LOVE YOU ALL!!! <33333
Current Mood:

mischievous
Yeah I know I've been majorly neglecting my LJ. I blame twitter. HAha! I'm so full of lazy lame.
Anyways, Just some general updates, I'm back from Japan, shall be posting a big photospam entry once I get the rest of the photos off my Dad's drive. They're the most hilarious shots from my sister, so I need them to live!
As for general stuff. Over the last week... HOLY CRAP It's only been a week!?!?! I've styled 4 wig commissions. Hurray for cash munnies! OSU!!!
I'm happy I'm getting through them so easily. I just need to pray now that people keep requesting them. Lucky for me, there will always be characters with stupidly retarded hair LOLz XDDD
Here are the ones I've done over the last week. Shameless self promotion.

Tendou Kozunu Wig
by *
Tsubaki-chan
on
deviantART

Tatsuma Wig
by *
Tsubaki-chan
on
deviantART

Kyouichi Wig
by *
Tsubaki-chan
on
deviantART

Shirogane Wig
by *
Tsubaki-chan
on
deviantART
I'm getting excited in the lead up to christmas, but kind of realised again... I have no plans, cosplay or party-wise... I'm so lame. I'll probably go to Chris' b'day, not sure if i can make Nicole's party yet. OTL''' Need to make more cosplays XDDD That'll make me feel better... Need to plan christmassy.. CHRISTMASSY!!!!
Hope everyone is doing well. Sorry for the long silence for some time. XD
Hey hey hey
Current Mood:

cheerful
As some of you know (those who I have the emails of) my hotmail recently sent out an email to everyone in my address book, some crap message that said as follows:
dear,

From: kit_kat_san@hotmail.com
Subject: dear,
Date: Tue, 29 Sep 2009 02:07:00 +1000


dear,
I would like to introduce a very good company, electronic products dealer.
I have bought some products from company,the price was very cheap,
and the products are very good quality!They accept paypal, credit card transactions,
bank transfers,and more.
Just have a look at this web page : <www.stupidobviousviruswebsite.com>
I am sure you will could save a lot of money!
Best regards!
PLEASE DO NOT GO TO THE ADDRESS LINKED IN THE EMAIL!!!
It's pretty obvious I didn't write this message considering how inpersonal it is & the fact that I hardly ever send out emails. Most people I know thankfully ignored the message or passed on that my computer had sent it out.
I'm sorry that so many people had to put up with it.
Rest assured I've run through several virus scans to get rid of the sneaky bastard, so hopefully now it should be gone. So PLEASE if you get it again beyond this date, please do tell me so I can try again. I've changed my emails password also to hopefully prevent further access in the future.
Thanks guys for putting up with me. I'm really not even sure how I got it I hadn't opened anything weird & had been away for the weekend, so WTF?! Christie knows how freaked out I was when it happened. OTL'''
Haha! Just as I'm getting over my flu, another virus decides to step in, but instead this was a computer virus. OTL'''
Current Mood:

annoyed
This took much longer than it should've. Namely because I've had the flu since this weekend, also my machine kept trying to eat it. Apparently it finds this fabric tasty. I think it's pretty.
I'm still not sure how much I'm going to sell this for, considering it's made from an expensive stretch knit style delustered satin. Kind you'd use for sexy underwears. *giggles like a 4yr-old* xDDD Mmm... I love thick, but light weight knit fabrics. *drools* They're nice & low stress to sew whilst sick.
Now all that is left is to make the head pieces & style my wig.
But good news is it should be ready for this weekend. YOSH!!!
Okies now I'm off to cut out my ranka dress XDDD
I finally finished my Gwendolyn dress!!!
Current Mood:

creative


Back from Japan, totally exhausted had no time for naps as my sister & family needed love, so please excuse the tired tomorrow LOLz
PEOPLE PREPARE FOR WIGS!!!! I got nearly every wig that people asked for. YOSH!!!
Hehelana I have one of your wigs & $95 for you. Sorry about the out of stock, but it can't be helped unfortunately.

I'm so looking forward to seeing everyone tomorrow!!! FSUK YEAH!!!!
LOL so much to carry. My wheeley bag may make a reappearance...

Ah sleepy time for sleep, see you all in the morning.

Just a note I won't be in cosplay for the first time in forever to a con. XD I'm a bit cosplayed out thanks to WCS, but I'll be wearing my World cosplay summit t-shirt & maybe my alphonse jacket because it's cold in aus. xD

anyways, night <3



Also:
I'll be getting WCS & con reports up slowly over the next week, plus a bucket load of photos. XDDD So much to go through & so much sleep to catch up on.
Hey guys!
Current Mood:

cheerful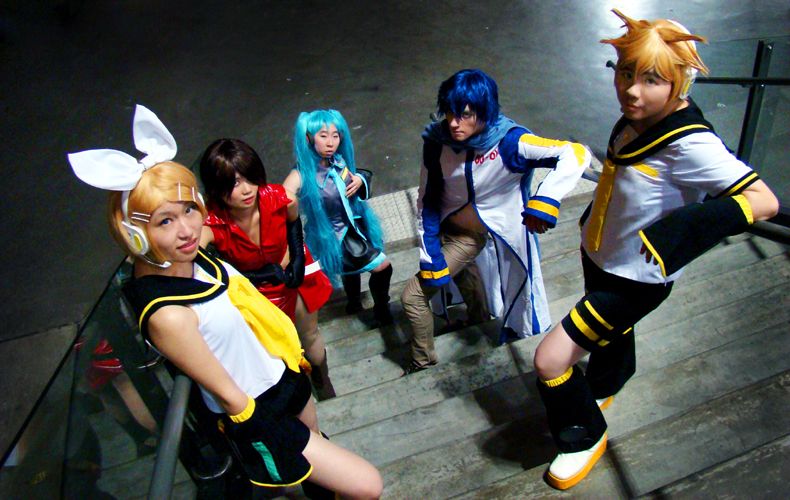 Sorry they're a bit blurry/grainy my iso went nuts for some reason... OTL''' I blame supanova lights XDDD
All videos can be found here:
www.youtube.com/user/TsubakiSama
Epic thanks to PAT for filming half of them for me! You rawk sooo hardcore!!!! <333
More updates later when I'm not dying... OTL''''
okies got some of the vocaloid shots up & finally all the videos from supanova.
Current Mood:

sick
If you really do need to contact me, I'd recommend texting my phone Or else note me on
DA
. I haven't been appearing online on MSN lately, so only a small select few have heard from me since like 3 weeks/months ago or whatever it's been. xD
THAT IS ALL!!!!
Please forgives my totally lack of being online or contactable lately I've totally fallen off the edge of the planet & am working on hardsuits full time. Progress pics whenever I flerking finish the fsukers.
Current Mood:

busy
(
Photoshoot......
Collapse
)
(
Woy Woy.......
Collapse
)
(
Eastershow
Collapse
)
(
Melbourne......
Collapse
)
(
NOW....
Collapse
)
Current Mood:

hyper


Unfortunately I've removed a few people from my flist.

To some of the people I have removed, it shouldn't be much of a surprise. This relationship we have is not double sided, I know when stuff is being hidden from me or I'm being taken advantage of & I don't think I really want you reading some of the cr@p I post on here anymore. I'm sure this feeling will be mutual since you hide most things from me anyway, I'll save you the trouble & just admit neither of us need this. I'm going to keep my journal experiences fun, you're free to do your own thing anyways & I'm free to do mine. I've tried, now I'm tired & really don't care anymore. I don't even know what we were doing or if trying was even worth it. You're probably going to be pissed at me...

To others, I may know you at a face value, but we aren't really close enough for you to be reading my journals as a lot of them are quite personal or directed only at close friends anyway, you probably wouldn't enjoy them & you have my contact details on DA or other websites anyway. Plus I hate having to work out the custom filters on here, it feels weird blocking some people & allowing others. TT3TT

Also to anyone who adds me & I don't add back, please tell me who you are, I can't guess people from the random usernames on LJ sorry.


Thankyou for the time together. If you really want to chase me up further on this you can contact my on msn or note on DA. Most of you should have those details, if not, that might explain the cut. >.>'''

I'm sorry <3
This is not a pleasant situation, but I think I might feel a bit more secure after it.
LJ Flist cut
Current Mood:

gloomy
Today I saw Catty today, she came all the way to my house again. XD We didn't do that much work, but we did organise most of our panel for mini. So now would be the perfect time to advertise:


Catty & I will be hosting the Cosplay Panel on Main Stage at 11am at Mini Animania.


Please come watch us so we're not talking to ourselves in that room all alone. xD We promise Yaoi & really not that much cosplay. It's more particular interests panel. xDDD
More to do with skit content & recording your skits so people can hear & understand them.
Then we'll give WCS progress, there will be some stuff we don't put on the LJ community just to give our friends a bit of a treat, but if no ones going to go I might not bother. xDDD

It's really annoying I've been working out heaps lately & I've just stopped losing weight. I don't know what I'm doing wrong, my diet isn't bad, maybe I should work out more during the day instead of late at night... I have no idea... Maybe I should start running, I guess short runs won't affect my knees too much. I'm proud of how many damn stomach crunches I can do, but I see no changes DX This stinks! I'm not going to give up though... I'll just try something different maybe???

It's funny though. I love how Catty & I have such different body shapes. I think it makes us respect the others body more for different reasons. (sounds sooo gay right now) XD Like her waist is so much smaller than mine, whilst my thighs are so much smaller than hers. Damn anatomy making no sense. xD It makes it annoying for building hardsuits though as I have to change the shapes of things to fit her as change size. Still fun... oh well... just me rambling random stuff. XD


Also I spam that there will be 4 sexy teams in our first preselection round for team Australia 2010. Be sure to give them lots of love & cheers on the day.



Team names are:

- Contra Mundi
- Go Wu Go
- The Barbie Experience
- Bubblegum Crusade



I'll be posting photos of the preliminary finalists on the WCS community here: community.livejournal.com/wcsaustralia

So keep an eye out for these sexy peoples.






Also please be sure to note:


HAPPY SMEX BIRTHDAY HARMONY!!!!!!!!!!!!!!!
Hope it's a damn good & damn sexy one. xDDD